Change is in the air
One of the things I like most about my neighborhood is our local grocery store, Nob Hill (Snell and Santa Teresa). Ever since we moved into our home (13 years ago) we have shopped at Nob Hill almost daily, and without hesitation I have to say that the Snell and Santa Teresa Nob Hill has the best customer service around.
Having shopped at this Nob Hill for so long means that we know almost every single employee by name, and they know us. This particular Nob Hill is very close to my house, it is well stocked and always very clean. The prices are pretty good, and if you shop the sales you can save a nice chunk of money. One of the things I am really enjoying is the new magazine that Nob Hill (Raley's) puts out, as it is filled with recipes and I love to cook! (Am going to try one of the recipes tonight, a "Zip Sauce" for steak).
For the last few years there has been "talk" of this store expanding, and finally it seems that the expansion is going to be started this September. Here is a picture of the current Nob Hill: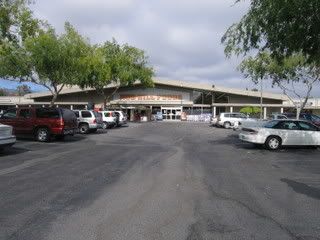 Nob Hill will be expanding from 24,000 square feet to 44,000 square feet, and the picture below shows the current size of the store with the location of the expansion (all the way to the red car which was the old Mail Stop.)
More pictures and information on the flip……

According to the store manager, the renovation/expansion will take about eight months (which means I will be forced to shop at Albertsons), and when the store reopens it will be "state of the art," with huge selections of organic and gourmet foods. Here are some shots of the current interior of the store: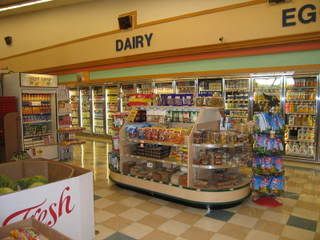 And a few of the great employees, immediately below is Luis who runs the produce department, he is always friendly, helpful and just a pleasure to be around: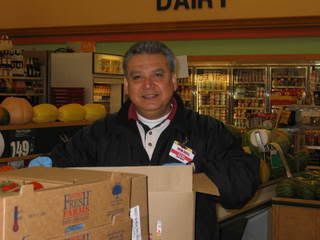 This is Linda, a 22 year Nob Hill employee. She is a wonderful lady and it is always a treat to see her when I shop.
And here is another inside shot of the store:
It is hard to find a "local" grocery store anymore, one where you know the employees and they know you. Stores that still give out a free cookie from their bakery to kids (yep, this Nob Hill does that too), stores that are not just located in a neighborhood, they are part of the neighborhood. Nob Hill on Snell and Santa Teresa is one of those stores, and while I am going to have withdrawal as they remodel, I am looking forward to getting my "fix" when they reopen.