Coyote Valley: To be or not to be
Today the San Jose City Council will discuss the future of Coyote Valley:
For more than two decades, the development of thousands of new homes in San Jose's pristine Coyote Valley has been tied to the creation of tax-producing jobs that would help the city pay for police, street repair and other crucial services there.

The restrictions also state that none of the 25,000 homes envisioned for Coyote can be built until the city's long-term budget outlook is stable. And with San Jose projecting an $87 million deficit in five years, those limits have kept Coyote construction off the table indefinitely.

But today, despite the urging of top planning officials, the council appears set to launch a review of whether those restrictions should be overhauled – and how soon.
Anyone who lives in San Jose realizes that our city is struggling to proved the most basic services, and we cannot ignore the impact to our city if the city council eliminates or changes the triggers that are in place for Coyote Valley.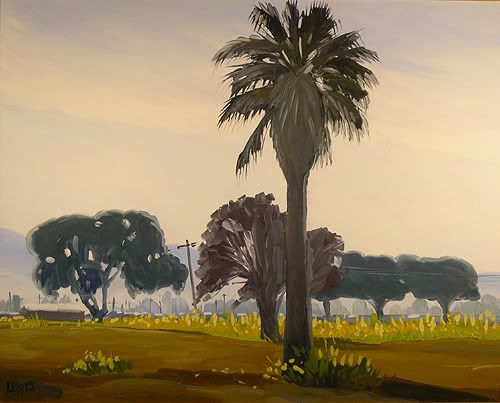 ("Palm, Coyote Valley "
Robert Lewis
20×16 Oil on Canvas Coyote Valley is an old farming region south of San Jose and north of Morgan Hill. Much of the land is still being cultivated but most is slated for development into corporate "parks" and all that come with them. This lonely palm stands in a field near the foundations of an old farmhouse now gone. The view is looking south.
Painting Location: Coyote Valley)
First, and foremost, housing does not provide enough revenue to be self sufficient, and without the tax generating base of business, adding housing in Coyote Valley without jobs means less services for every other part of San Jose. Beyond the economic impact of adding housing before jobs, there are also the environmental issues that need to be addressed.
If you would like some back round on this issue, you can read the Coyote Valley Specific Plan online by clicking here. This link has meeting dates, copies of reports and much more, and is a must read if you want to find out exactly what is going on with Coyote Valley.
The development of Coyote Valley will impact everyone who lives in San Jose, and as residents we need voice our concerns and opinions to the city council.